What Makes Handle This! Stand Out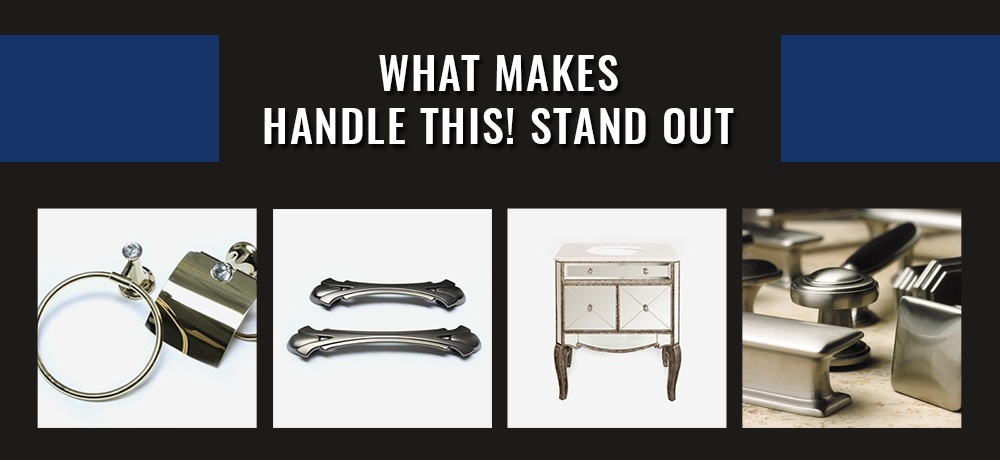 Thanks for stopping by our blog. If you're looking for more information about Handle This!, you've come to the right place.
About Handle This!
Handle This! is a family owned business in the cabinet and door hardware, house numbers, bathroom accessories, and vanities. We provide kitchen and bathroom designs and accessories in a wholesale/retail setting. We now have an online presence as well.
Our hours of work are 9 am to 2:30 pm and by appointment after that. We sell cabinet and door handles, vanities, house numbers, and bathroom accessories from faucets to towel bars.
We have been in business for four years, and our love for design has led us from a cabinet handle company to presently selling a variety of related products. We service all of the Newmarket and Toronto areas through our various distributors.
We are in the growing and expanding stage of business. We spend time with our customers, helping them pick the right product. Being highly experienced in this business allows us to make our customers' shopping experience a lot easier and quicker. We strive to be the best we can be in regard to customer service and have been growing through referrals from our past clients.
The Handle This! Difference
All customers are unique and special to us. We know our product and can efficiently help them. We also go above and beyond for our customers to make sure their vision comes to life.
One aspect that makes us second to none is the customer service and one on one help that we provide. We are set apart by our design and customer service, as well as our ability to keep up with all the new trends.
For our clients looking to upgrade their homes or offices, we put together a collage of how the item will look in your space. We carry a wide variety and range of price points for our customers and carry styles from around the world.
We have worked on complete house projects putting together matching handles for doors and cabinets, to bathroom accessories, to matching lighting. We have been on-site to make sure all the right choices are made. These have been some of our greatest achievements.
Our dream for the future is working with more distributors offering new and innovative Handle this! "vanity and hardware line"!
To learn more about Handle This!, please click here. If you have any questions about how we can help you, we'd love to hear from you. Please contact us here.